For some time we've been reading about how many of the most important companies in the United States are focused on to serving Hispanic consumers. Given its size and economic importance, it is trendy among marketers to highlight the importance of providing relevant content to target the Hispanic market.
Unfortunately, this is not reflected in the SERPs (search engine result pages), because our reseach shows, two interesting phenomena over and over:
1) There are more ccTLDs than subfolders and subdomains appearing in the SERPs in USA.
2) The target audience for most of these sites is not the US market.
Both are interesting, but the second is concerning. But observing phenomenon is not what we are about. We need data, like what we found in our recent study ccTLD's in Latin American Search Engine Results: A Case Study, in Altura Interactive, so we decided to take on the Spanish language results pages in the US to see if our observations proved to be correct.
The aim of this study is to verify if results in the SERPs in the United States are indeed not offering value to users.
The Study
Let's start with an example: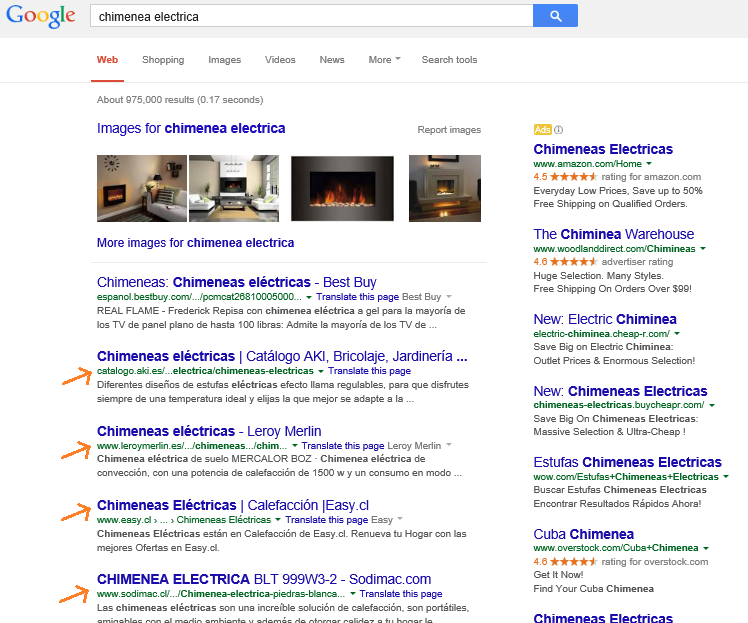 This is a SERP for "chimeneas electricas" (electrical fireplaces). And although there is an interesting phenomenon in the Adwords section (worth future analysis), let's focus on the organic results.
For sites that offer services in the US, it is common to use gTLDs (.com, .net, etc) and subdomains ("español.bestbuy.com" was found at the number one spot), but we can still see ccTLDs from Spain and Chile.
In fact, except for the first result with BestBuy, nobody other site on the first page to offer the user what they are looking for: electric fireplaces in the US. We live in a globalized world and maybe stores in Chile or Spain make international shipments, but this does not ensure that the user is looking for fireplaces exported from any of those countries.
Thinking it was probably the search term, we conducted another search, this time with the term "lugares para bailar" (places to dance). This should offer results of physical locations.
This time there were not many ccTLDs above TLDs, but we still see a noticeable difference between these subfolders or subdomains and places to dance found – most are outside the United States.
It wasn't until the second page that we could locate an option that fulfills the expectation of finding a place within the country.

But these are anecdotal  examples, let's get into the study.
What We Did
For the study we went to Google and repeated the above process for:
1. Google.com's results with the following specifications.
a. Language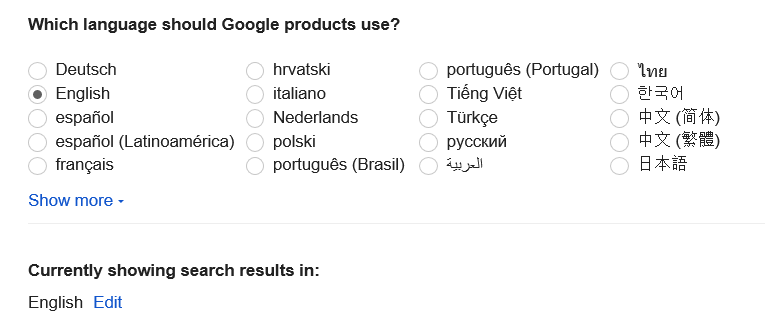 b. Location

2. Keywords from the 22 verticals that exist as AdWords categories (3 keywords from each vertical)
3. Different search volumes (More than 10,000 monthly global searches, more than 5,000 global monthly searches, less than 100 global monthly searches
4. Keywords chosen were non-localized
5. Only the top ten results from each SERP were included in the analysis
a. Target audience,
b. For products we considered physical products and services, the impact of possible payment methods (subscriptions and/or memberships).
c. For news or general knowledge sites, it was taken as useful information worldwide.
6. Country of origin of the site admin
a. The administration agrees to the terms of use or privacy statement in the country where the subject was identified.
Those sites that could not be identified were included in the unknown category.
The Results
Language
From the analysis, 91.97% of the pages were in Spanish and 7.73% in English. This means that 7.73% of the sites have enough links in Spanish, regardless of language, to be able to rank in the top ten of Google searches.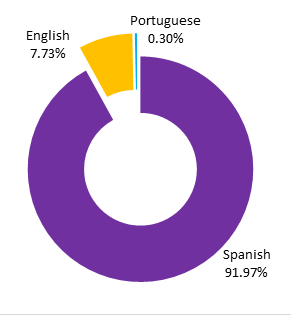 ccTLDs, TLDs and Subfolders
67% of the sites analyzed use TLDs (.com, .cc, .info, .mobi, .net, .org, .tv, and .gov), clearly outperforming ccTLDs. This is something completely expected considering that the ccTLD of the United States (.us) is not widely used.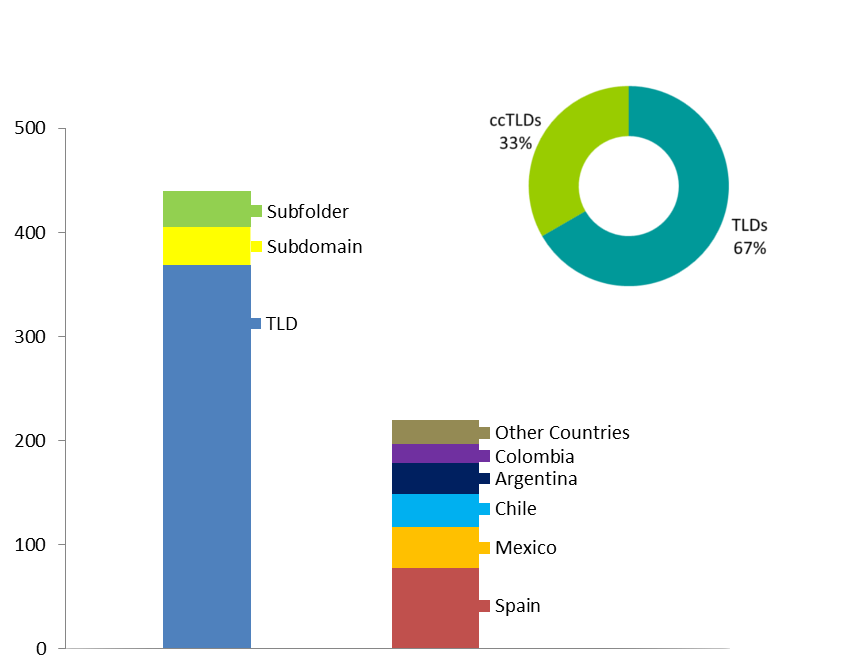 While it is expected that a subfolder or subdomain has a greater impact on Google.com than a ccTLD, compairing with subfolder and subdomains, we see more ccTLDs ranking.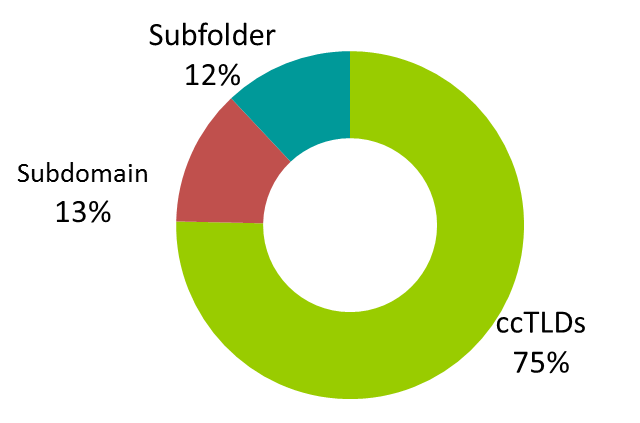 Target Audience
Analyzing the target audience of the sites shown by SERPS, we can see that 55.45% had an overall focus (not US specific), while only 2.42% targeted the United States.
This means that on average 4 in 10 results in the SERP will not be useful to a user in USA, 5 are globally targeted and only 1 be of use.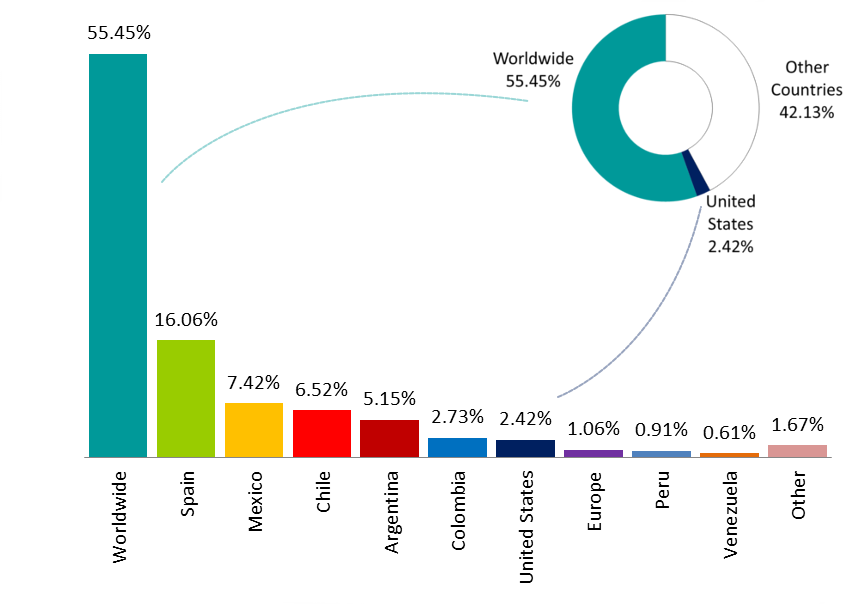 Site Admins
This does not mean that companies in the United States are not making an effort to offer content in Spanish, in fact 26.67% of the sites in the study are managed by Americans. However they are losing against 27.27% of managed sites offered in Spain or 68.03%, which is the sum of all Spanish-speaking countries.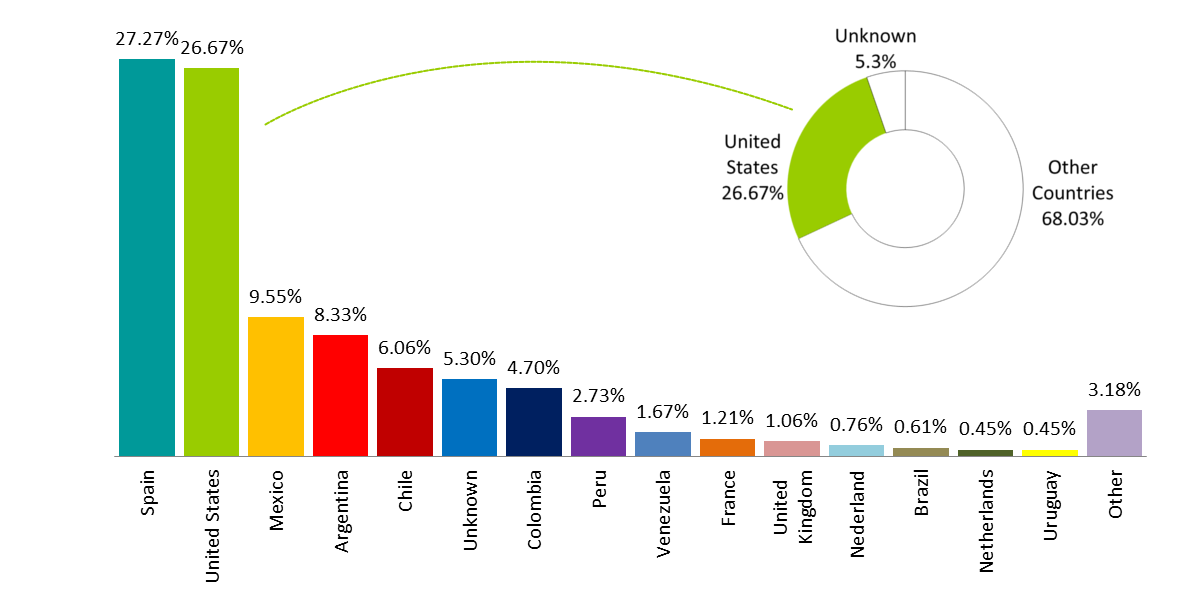 What Does This Mean?
We can assume that the results are due in large part to companies not having entered the Spanish speaking market in the US.  Although marketers have argued for the creation of campaigns focused on Hispanics, the reality is that getting from words to action depends on the will of Executive level decision makers.
This means that users will continue to be forced to search in English, since the results in Spanish are so terrible.
Assuming that a website has been successful in English, translating and optimizing your current website should yield gains almost immediately.  Instead of fighting for market share, this is an area of massive opportunity.
For those who want to review the data in depth, you can find it  here.  Have any thoughts on the study, or our conclusions? Please let us know!