A large marketing website recently published an article talking about how Hispanics are ignored by companies that invest in new media.  The only evidence used were a few comments from important Internet properties like Terra and Univision.
No statistics, no dollar figures, nothing else.  Every piece of actual research that I have seen indicates that new media spend directed at US Hispanics has risen, even as companies continue to be confused about how to target them ("In this year's survey, 48% of respondents cited their senior management's push-back or lack of understanding, up from 31% in the 2010 survey.").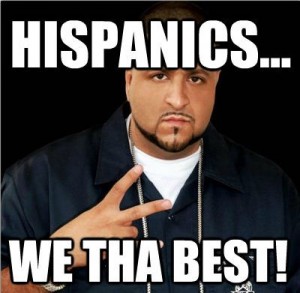 The fact of the matter is if you are doing business in the US, you are probably selling to Hispanics already.  What you don't know is that with very little effort or investment, you could make them your best customers.  But what makes us so special?  Here, let me show you:
Low Expectations
Since eCommerce sites generally ignore us, just a token effort can be a BIG deal.  For example, when Best Buy translated their website their site traffic went BANANAS.  Really.  They don't release sales numbers, but according to an article in Forbes, visitors to the Spanish language site spend twice as much time as those who visit the English language site.
They also learned that there was a high demand for having bilingual sales people on staff, as well as an international demand that they are now meeting by opening stores in Mexico!
I'm not saying that all you have to do is translate your website and the sales will come to you, but because many companies haven't gotten around to translating their websites, you can prove your concept before allocating additional resources.  If you want to learn more about how to do that, check out my Mozinar.
Loyalty
Hispanics have demonstrated that they are very brand loyal, so if you treat them right the first time, they will keep coming back.  They are also more receptive to marketing pitches, especially if you have established trust.
According to Adweek, 54 percent of Spanish-dominant Hispanics are "much more loyal to companies that show appreciation of our culture by advertising in Spanish."
Social Interaction
OK, so experts are split on how much the social element of Hispanics is really helpful online.  And the data can't really tell us very much.  So even though we know that Hispanics love Facebook and Twitter, we don't know how much time they spend talking about brands.  Still, Hispanics like to ask their friends and family for suggestions regarding anything from where to get a mani/pedi to suggestions about a moving company.
This can take place on the platforms that we now call social media, or on platforms that are usually not bunched together with those like email and word of mouth.  That's right, Hispanics love email and texting.  So if you've treated your Hispanic customers right, you could be getting referral traffic from "dark social".
Buying Power
Sorry, I had to go back to the meme well for this one, but the urge is too much to resist.  Depending on who you believe, Hispanics buying power is currently between 700 billion and 1 trillion dollars.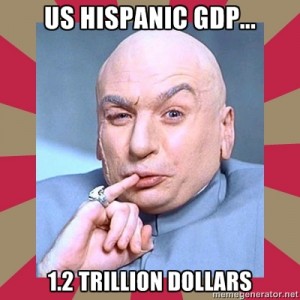 TL:DR
If you aren't considering Hispanics in your US marketing campaigns, you ought to.  Our base is growing fast, and you don't want to be left out in the cold.  Investing in Spanish SEO now will pay dividends down the road.