To most people mole is something that they order in a restaurant.  To me, it's like mothers milk.  See, my father was a trumpet player in the symphony orchestra, and they toured all over Mexico.  I couldn't always go along, but I remember sitting on big buses for hours at a time, stopping only for food at little shacks that only the bus driver knew existed.
So I tasted mole in Oaxaca, Puebla, Guerrero and many other places before I even knew its name.  But I always knew what it was.  At most small restaurants here they don't actually have a menu.  They give you a choice of dishes for the day and that is it.  And I could see by the smiles and the number of people who ordered it, that mole was a favorite.  But the best mole wasn't what we would eat on tour, but what we would eat in people's homes.  Thirty plus musicians and their families would get together to celebrate holidays and inevitably someone would bring pollo con mole Xiqueño.  My mom raised me as a vegetarian, but even as a small child I was curious about food, and would try tiny bites of whatever everyone else was eating.  The combination of sweet and spicy left a zing on my tongue that most closely resembles a ringing in your ears.
We left Mexico before I turned twelve, and while I went back every summer, mole stopped being a part of the experience, so much so, that I almost forgot it existed.
When I worked in a Mexican restaurant during college, people would order mole, and really enjoy the experience.  I couldn't.  Burritos and fish tacos were fine, but there was something about them reheating the chicken in a microwave, and then pouring the sauce over the top that just offended my sensibilities.  The restaurant was a fun, kitschy place to work (the motto was "Praise the Lard!"), and I enjoyed most of the other things they served, but I could never bring myself to recommend that particular dish.  I would go to other "high-end" places where the mole was purported to be excellent, but it never quite met my expectations.  Even though I hadn't eaten mole in Mexico for the better part of the decade, something in my subconscious rejected what was offered.
Then, about eight years ago I came back to Xalapa, and on a whim my friends and I decided go see la Cascada de Texcolo, a waterfall right outside Xico that drops over 70 meters (about 230 feet).
When we got there the memories came flooding back. As a child, we would hike to the bottom and sit at the base all day, swimming in the cold water, checking out the minnows swimming in the pools behind the rocks, and laying in the larger ones to take in the sun. The path was all fenced off because the hike was deemed too dangerous for tourists, but it was still a pretty cool place. Literally. The temperature is lower than the rest of Xico, just from the water.
My friends and I walked around, saw the bridge that was bent by the 1985 earthquake (7.5 on the Richter scale) and went swimming for a while.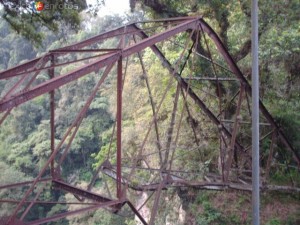 Since we had nothing else to do that day, we decided to walk around town and take it easy.  Xico is a quaint little town, known for being the site of much of the classic movie Romancing the Stone, as well as A Clear and Present Danger and Collateral Damage.  The colonial architecture is pleasant, and the people are friendly.  Most tourists know Xico for a yearly festival where they make tapetes, which are carpets made from flower petals.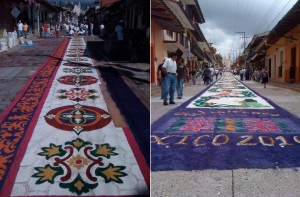 But we weren't there during that time of the year, and as usually happens when I get bored, I start looking for something to eat.  Tucked away on a side street near the center of town we found El Acamalin.  There, we feasted on mole, chiles en caldillo (Probably my favorite thing to eat in the world. Chipotles stuffed with pork, raisins, spices and more, then dropped in a tomato-based broth with almonds, thyme, and olives) and Xonequi, a black bean soup with corn balls that reminds me of motzah.
Ever since, whenever people visit, we take them to this hidden gem.  They serve morita, a sweet blackberry liquor as an aperitif, complementary tapadas (small black bean empanadas with polvo de aguacate) and treat every customer like family.  I would have liked to bring you some of their mole, but their containers are not up to spec, and can't go through customs
Their marketing is all word of mouth. But it doesn't matter because they are always full.  Good food speaks for itself, just like good marketing.  The restaurant is only open on weekends, because that is how they like it.  The lower floor has been converted to a dining area, but the family still lives upstairs. I've offered to build them a website, improve their packaging for export, and find freight forwarders to help, but they just smile and shake their head. "The guero thinks we need more," they say when they think I can't hear them. 
This brings me to the reason for writing this post.
Relationship marketing.
When Rand Fishkin wrote his excellent Restaurants and Bar Guide to Seattle, he included this tidbit on his list:

Which led to this exchange on Twitter: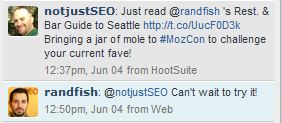 When I went to MozCon last month, I handed Rand a jar of Mole Xiqueño, and then knowing he was very busy, promised to give him a workable recipe and scooted. Since Rand is the only one who got a jar, nobody else can really use this post for cooking purposes (but if you skip to the bottom, I'll tell you how to get your own, or make it from scratch).
In Mexico, creating a relationship is the only way to do business.  Almost every business deal can be traced back to a pre-existing connection between the two parties.  People on the outside call it "corruption" or "cronyism", and in some cases that's true.  But most of the time if someone gets a piece of business it's because they remembered a birthday, celebrated an anniversary or bought them a whole pig for a roast (true story).
The catch is that the relationship has to be genuine.  If you just start showing up with presents, people will feel like you are trying to buy them, and that is the kiss of death.  This is why I'm not counting on Rand to tweet this out to his followers, recommend us as a Spanish SEO and inbound marketing company or provide us with the links necessary to leapfrog onto the first page for my main keyword phrases.
I'm doing it because it was the best way for Rand to actually know who I am.  Hopefully the next time I see him we will be able to have a conversation.  And if I get a chance to talk to him about what we do, and why my company exists, well that would be great.
But it would be easy to misunderstand the gesture.  Just like it is easy to misunderstand mole.
Everyone in the U.S. basically knows it as "that awesome sauce that has chocolate in it," but nobody has any idea what goes into it besides that main ingredient. Unfortunately, the generalization is completely unfair. Every region in Mexico has its own type of mole, and they all taste different (in that link there are twelve different types of moles, and the author even admits in the comments that it isn't close to covering all the versions that exist).
The term mole can describe almost any traditional dish, but in the U.S., all mole will be judged against what is served in a restaurant.  Here are the three versions accepted across Mexico as the most valid interpretations:
#3 Mole Poblano: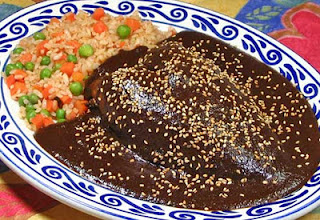 This is the one served in most Mexican restaurants in the U.S. It's not particularly spicy, but is pretty sweet and very thick (they use corn starch or flour).  The sesame seeds are a staple of the region. By the way, Puebla has some other amazing food like these huge chiles rellenos (don't try these at home) or the best sandwich in Mexico.
#2 Mole Negro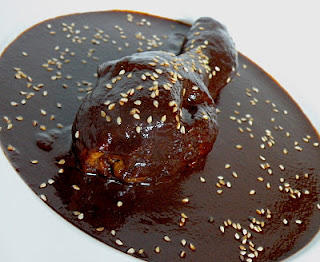 This mole  is associated with Oaxaca. The chocolate is unsweetened, but the flavor of the cacao and the chiles make this one pretty harsh for the unaccustomed palate. It's reeeeally good. I eat this when I am in Oaxaca, but never order it outside of that region. I don't trust anyone younger than 70 to prepare it correctly, and the best versions usually come from the mercado. Very few U.S. restaurants serve this (although most claim they do).
#1 Mole Xiqueño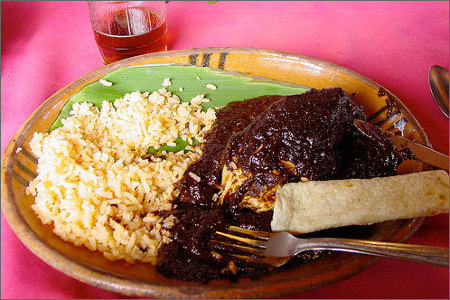 This is like getting punched in the mouth by flavor. It is spicier than its more chocolaty counterparts to the point where you NEED the rice and preferably a cold beer to maintain the balance. It is not as spicy as some moles I've tried (the mole in Tuxpan has so much chile that it is actually bright red), but is just spicy enough that you might break a sweat. I have never been in a U.S. restaurant that serves this version.
Here is the recipe. It was given to me by a Doña Cristi who has owned her stand in the mercado nearby for over 30 years.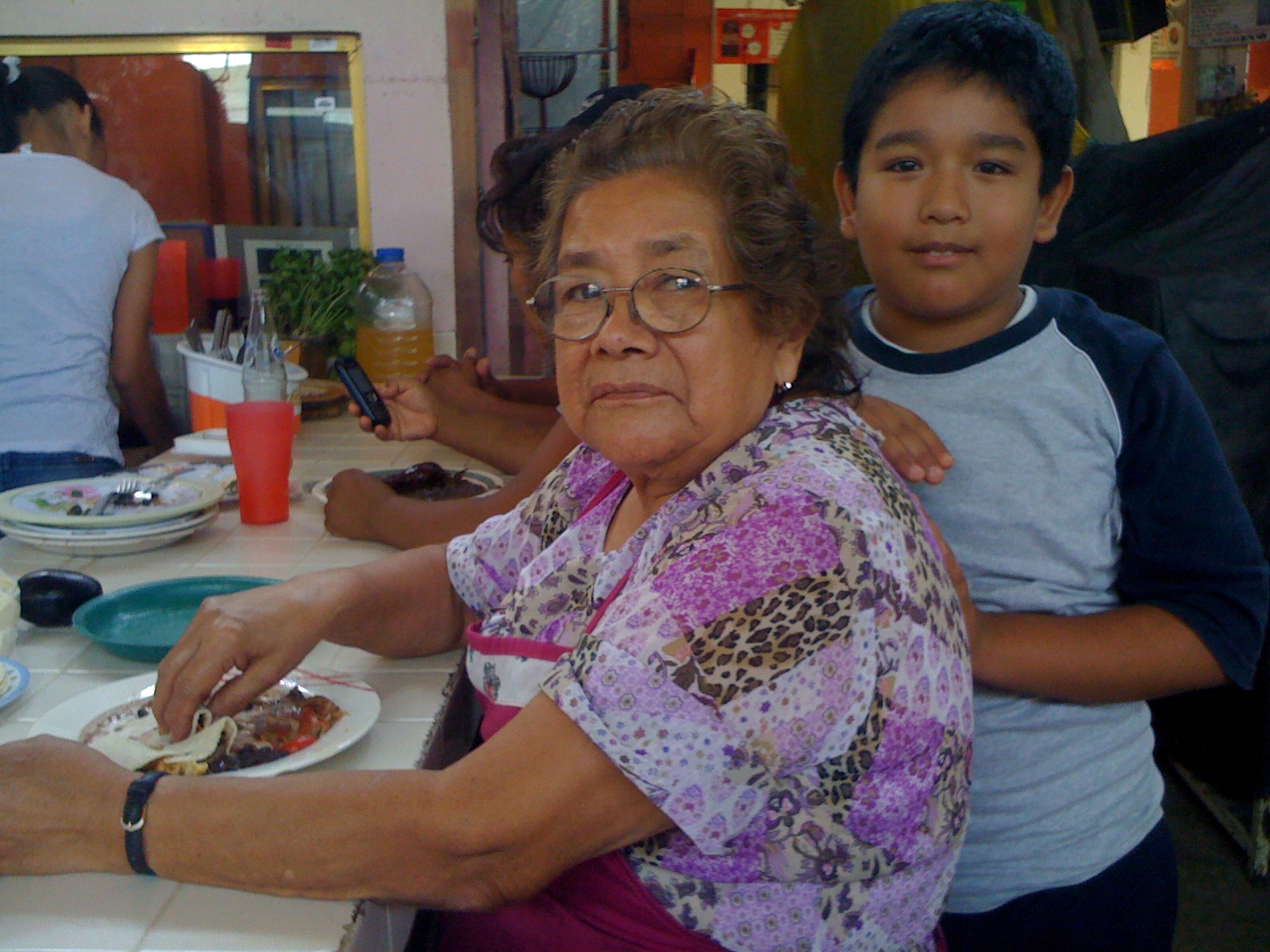 Mole Xiqueño
Click here to make mole sauce from scratch via Zarela.com
Ingredients:
2 Heaping tablespoons of Mole Xiqueño
1 Liter of chicken stock or water
4 pieces of chicken (dark meat is best)
There are two ways to prepare this. You can either pre-boil the chicken to create the stock, or you can combine the water with the mole from the start, and then add the chicken. We always do it the first way in my house (we make extra stock for soup), but Doña Cristi suggested the other way as being a way to add more flavor. Gives me the heebie-jeebies though.
To make the stock, boil the chicken for about 15 minutes in enough salted water to cover the thighs, then turn off the stove and pull the chicken out and put it on a plate.
Get a large frying pan or cast-iron skillet and turn up to medium heat. Put the mole in the pan right away so that it warms slowly. Add the stock a cup at a time until the mole dissolves. The consistency should be soupier than what you have seen from mole in the past. In fact at this point, it should be pretty liquid, but the color should be a very dark brown.
Add the chicken, turning it over to make sure the sauce covers the chicken. For Mole Poblano, the sauce and the chicken are cooked apart and the sauce is poured on top. In Veracruz, we believe mixing the chicken with the mole makes the flavor richer. Since the chicken is already cooked, you can let it simmer as long as you like, but remember that you want the texture to be more like tomato soup than molasses.
Plate the chicken and pour more of the sauce over the top. It should take over your plate. Put some rice on the side (we like red rice, recipe to follow). Serve with corn tortillas and a small green salad. If you are feeling really crazy, shave some onions and radishes, marinate them in lime juice while you are cooking, and use them as a topping along with queso fresco. Yum!
Notes:
This sauce is NOT vegetarian, so please don't serve it to someone who is. It also contains nuts, so allergies can be a problem as well.
While chicken is the most popular vehicle for this sauce, my wife frequently makes enmoladas which are really just enchiladas with mole. For those, just make the sauce as previously instructed, and then drop folded tortillas into the sauce. Move them around until they are coated and serve. Top with queso fresco (grated mozzarella will do in a pinch) and thinly sliced onion.
Red Rice:
Rice
Chicken Stock
1 ripe tomato
1/8th of an onion
1 clove of garlic
1 carrot (diced small) or ½ cup of frozen peas
½ stick of celery or one piece of cilantro or parsley
Salt to taste
Make a tomato paste:
Put the tomato, onion and garlic into the blender. If your tomato isn't fully ripe, you might have to add water. In Mexico, we would roast the tomato first, but it is not mandatory.
So, in Mexico we like to toast the rice before we cook it. Get a pot and put it on medium heat. Put however much rice you plan on making in the pot. As it heats up, move the rice around with a wooden spoon until it changes color from white to light yellow.
Add the tomato paste and stir. Once it has been fully integrated, add the chicken stock (you can use water, but the flavor is not as full).
Add the peas or carrots and the celery (or substitute). Let the rice cook.
Serve with anything, but it is great with the mole recipe I gave you.
For most of you, the recipe would be lacking the main ingredient, but as a way for us to start building a relationship (see what I did there?), I make the following proposal:  Get in touch with me and let's trade.  I will send you a jar of mole, and you send me something delicious (that can travel internationally).  And let's keep in touch.  You never know when you will need someone to help you with a bilingual (or tri-lingual) project, or I will need someone with your skill-set.
To Rand, I hope you enjoy the mole, and please let me know how it stacks up to the version they serve in La Oaxaceña. If for some reason the recipe doesn't work, you could always do a MozCation here sometime, or I can bring another jar and make some for the Mozzers next year!