This is part of a series of posts discussing the business side of SEO.  
I've been in Spanish SEO for less than three years, and in that time I've read almost 1000 resumes, interviewed hundreds of applicants, hired a dozen employees and fired one person.  As a result I've learned a few things about how the best ways to hire people to work at Not Just SEO.
Focus On What You Need, Not What You Want
Setting your own expectations for what you can reasonably find in the job market can be crucial.  I usually lay it out in tiers, shaped like a pyramid: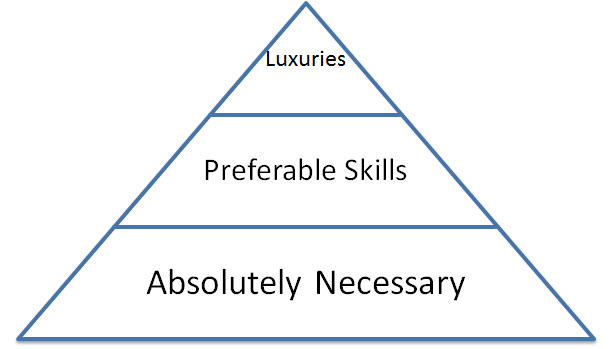 These will vary for each position, and have changed as we´ve grown and learned more about what we need, but organizing your thoughts and expectations is always a good place to start.
For example, one thing that is a necessary basic skill in my company is that every employee must possess excellent English skills.  If I don´t see that on a resume, or if they list it on the resume but fail to deliver in the first interview, they are out.  Other basic knowledge might include marketing degree, knowing how to code HTML, or a journalistic background, depending on the position.
Character traits are very important.  Do you want someone who is outgoing (for SMM), or meticulous (for copy editing)?  One trait I always look for is the search for excellence.  That doesn't mean that necessarily that they graduated magna cum laude, but there is something fierce about people who want to be excellent.  Generally speaking they take criticism well, don't make excuses, have achieved before in some part of their life.
When I ask someone to provide a translation of a paragraph of text on the spot, I can usually figure out whether the candidate has this trait, simply by seeing how they respond to feedback.  If they get defensive, or try to explain their mistake, usually they are not going to be a good fit.  But if they take the critique or ask questions that require further explanation of why they were incorrect, that is a strong indicator that they will be a good fit.
Preferable Skills are areas that I would like them to have some knowledge, but aren't strictly necessary for them to work with us.  I generally prefer candidates with at least basic experience of Excel, but if they have the other traits I´m looking for, it's not a deal breaker, there are plenty of free courses they can take once we´ve got them on board.  
Previous SEO experience is always desirable, but since we are the only SEO company that operates in our city, that is a luxury, not a necessity.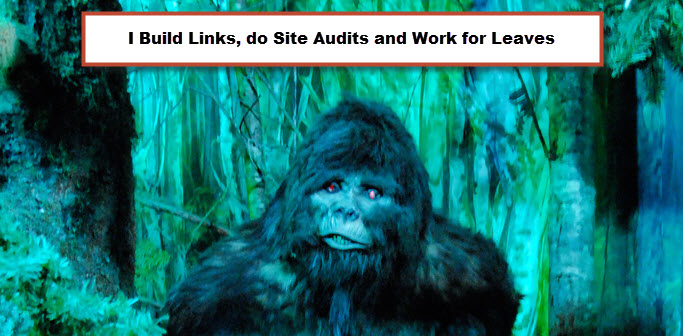 Multiple Interviews = Better Employees
Our interview process is rigorous, and that it has a huge hand in assuring that we not only hire people who are great for our company, but that the people who we hire have an accurate picture of the work that they will be doing on a daily basis.  Let´s walk through our process:
1) Read Resumes.  Throw out anyone who doesn't have the basic skills.  A vast percentage of applicants never make it past this stage.  Despite our efforts to write clear, concise ads that describe exactly what we are looking for, many people who are desperate for work will apply, even though they do not meet the specifications we´ve given in an ad.
2) Call them to set up an initial interview.  We´ve learned a ton about our potential candidates on these calls.
3) First interview via Skype.  Here we simply test English skills, talk a bit about previous experience, and see how they react when called upon to perform under pressure. At least fifty percent of the candidates that I interview in this fashion can be eliminated within the first five minutes.  Obviously we always conduct the full interview, but it is very common for people to exaggerate their English skills on their resume.
4) In person interview.  Here we review previous experience (including school) in detail, learning as much about them as humanly possible. If you´ve made it this far, you´ve got a pretty good shot at a job offer.  We generally invite about thirty percent of the candidates we interview personally to move on to the next phase.
5) Trial Day: If we like a candidate and are almost certain that we want to hire them, they are brought in to the office for about four hours.  I explain the basics how Search Engines work, talk about their history and evolution, show them the basic page elements, and then ask them to write their own.  Then they go work on something specific related to the area for which they interviewed, usually with a current team member.  At the end, I take them out for coffee and we chat about the experience, and how they felt about the day.
If they´ve made it to this point, it is almost a given that we are going to offer them a job, but there have been occasions where we´ve changed our mind at the last minute.  It has also happened that someone came in for a test day and realized that working with us wasn´t a good fit.  Sometimes they´ve even accepted the position and reneged after one night.  It happens.
But overall I feel that having someone in to be tested (and to take us for a test drive) is a great way for everyone to get to know each other.  It also gives members of our current team the opportunity to give feedback on the fit.
It might seem tedious to go through this process, but it is much worse to hire someone who isn´t a good fit.  With all the time that you invest on training
Get a Second Opinion
I'm generally a pretty enthusiastic guy, and tend to hype a candidate's strengths and overlook their flaws.  Luckily for me, I have a resource who worked in Human Resources for over 10 years, so she always participates in the process to ensure that the person we hire is going to be a good fit.  If you aren´t lucky enough to be in my position, there are consultants available who can help in this area.  Even if you can´t afford that, ask a friend to take a look at the resume.  Ask them to give you honest feedback on what they see, they might find something you have overlooked.
If you give people the chance to come in for a trial day, the feedback of your other employees can help you make a final decision.
The fact is that there is no way to guarantee that the person you hire will work out exactly how you want them to.  They might not have the skills you thought, or might as fascinated by the work as you are, but if you follow these tips, you´ve got a much better chance at success.
There are lots of SEO´s who champion puzzles, and excel tests as great ways to pare down your list of candidates.  If you have any specific examples, please share them in the comments, or reach out to me directly via Twitter or G+.