This is the first in a series of posts that consider SEO as a business enterprise. 
The idea for this post began with a meeting. Not too long ago I was invited by Ian Lurie to stop by Portent and chat about the possibility of collaborating on a project.
Just the thought of stepping in their building was awesome, but the reality was so much more. The meeting itself was amazing, and the tour around the office inspiring, but what really struck me was that Ian had a great team of people, and that is why he could speak at conferences, write posts, and generally be an advocate for Portent.
As is my habit, coming out of the meeting I took all the business cards and looked the people up on LinkedIn, I noticed something in Tracy Beach's profile: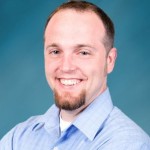 "Joined Portent in 2000 and have succeeded in multiple positions over the many years, including creating and defining the Account Strategist role, vital to the company's growth and success. I have played an integral part in helping Portent evolve from a four-employee agency into a leading Internet marketing firm."
As someone who was at the time running a four employee agency, and thinking about how to scale that into something bigger, I was intrigued. So much so that I reached out to Tracy, and asked him if he would mind trading emails about how this evolved. While the thought of publishing this conversation/interview did cross my mind, I was mostly trying to figure out how use Portent's experience to help me decide the path for Altura Interactive.
Zeph: Could you describe the Account Strategist role?
Tracy: Account Strategists are our client's internal marketing managers, advocates, communicators, chief strategists, and relationship owners. They are most responsible for helping clients understand why we do things and growing our client's revenue.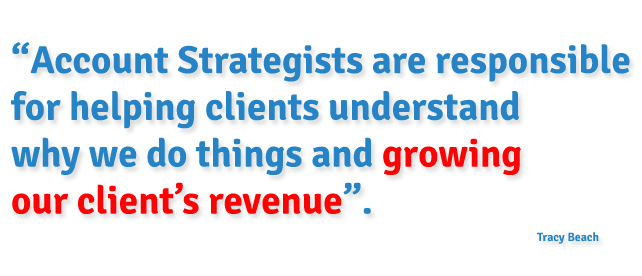 Zeph: How did this role evolve from when it was originally conceived?
Tracy: About 7-8 years ago, Ian was our only salesman and the only person responsible for maintaining client communications. That puts quite a strain on a growing company's CEO. After some time, I started taking as much off of his plate as possible to help maintain and improve client satisfaction by managing projects and building relationships. I was on a call with one of our key accounts when my contact (the CMO and one of Ian's long time relationships) suggested that we consider creating an "Account Manager" role at Portent because he could see that our service was much better oriented when Ian was waving his strategic wand and I was guiding execution. And on that day I became Portent's first Account Strategist.
2 months later, the same client called back to tell us how fantastic things were going. He also then told us that he wasn't expecting such an increase in cost, while the level of service we began to provide was much more intense and focused on generating revenue.
Notice the difference in the title. Account Manager is considered a derogatory term at Portent. "Account Management" is much more task- and deliverable-oriented duties, whereas Account Strategists drive the overall campaigns. Through the years we've worked hard to hire and educate the smartest business minds in the Internet marketing field.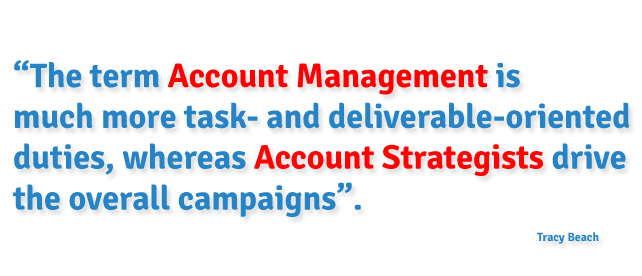 Zeph: How much of the actual strategy does an Account Strategist determine?
Tracy: Quite a bit. During the sales process we'll (Ian, a senior strategist, or me) typically put together our high level answers and strategic direction to a client's initial goals and requirements, but we always tell our clients that your AS is the one that will take the lead as they dive deeper into their business and analyze their situation from all angles. There is always a game plan that has been formed early on, but like any good quarterback, you need to adjust to the defense and the game situation.
Zeph: What are the advantages of this structure?
Tracy: I've worked with a lot of great SEOs, PPCs, data heads and just plain great Internet minds over the years. I've learned that those guys and gals LOVE their work and they really geek out on their craft. They possess amazing qualities to present actionable insights for our clients, but don't always want to be in front of our clients. And they'd much rather be focusing on their work than drafting strategic plans, organizing a project, meeting with clients, continuously educating and re-educating, wining, dining, and all of the fun things that go into an ongoing AS relationship. Additionally, because we're a full service Internet marketing agency, we have a lot more moving parts. That full service aspect makes what we do much more valuable, but also generates quite a bit of chatter and requires a lot of planning and discussion with our clients. An AS really helps to organize a path between the various departments at Portent and our clients and helps to focus several disciplines on the ultimate result, revenue.
Zeph: How do you decide the allocation of resources, and prioritize who gets what first (I need a small dev project, 5 awesome blog posts, etc.)
Tracy: This really depends on the client's situation and what we're trying to achieve. A lot of times clients try and take us in the wrong direction with daily requests that don't speak back to their ultimate goals. That's where AS's are supposed to say "no" and get the client focused. That's not as easy as it sounds.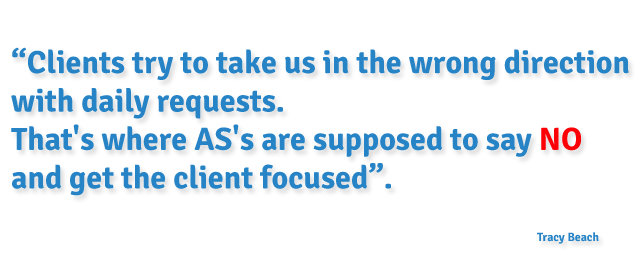 Zeph: Do the same people work continually on the same account, does it rotate?
Tracy: Sometimes we'll rotate an AS to get a fresh perspective on an account or bring in a different skillset and sometimes we might adjust things because of workloads. Some of our clients have been with us for 12+ years so they've seen a few different Account Strategists. Sometimes a client will have the same AS for years. It really depends on campaign goals, client priorities, and resources.
Zeph: What percentage of billable client time do your account strategists work on a given account (on average)?
Tracy: In our experience, Strategists Account for an average between 10 and 20% of an engagement. This always depends on the stage of the project and the client. Some are more demanding on a strategist at times and sometimes things may be a bit more hands off.
Zeph: Can you give us a peak into your training process for Account Strategists?
Tracy: This is constantly evolving. Our Account Strategists are marketers first. We hire people with a passion for marketing. During the first few weeks they are run through Portent's onboarding process where they read quite a bit and sit in on many client meetings with their peers. We also have troves of information on our Internet marketing processes and methodologies that they are given time to absorb. Each AS sits down with senior members of our team and is walked through their daily routines so they can understand how the rest of our teams do their jobs. Portent is constantly training our team members.
Eventually I hope to move towards the type of structure that Tracy and Portent have, but for the next few months at least it is still on me to handle most of the client facing responsibilities. I'd like to thank Tracy for being so generous with his time and his knowledge.