Think your Spanish-speaking market isn't on social media? Think again.
In fact, they're the most engaged social media users in the world, spending nearly twice as much time online as other web users and adopting new channels at rates that are at times 10% higher than the United States.
The opportunity is only growing as more Latin Americans gain access to the web. Ahead of the curve, Altura Interactive can prepare your business to capitalize.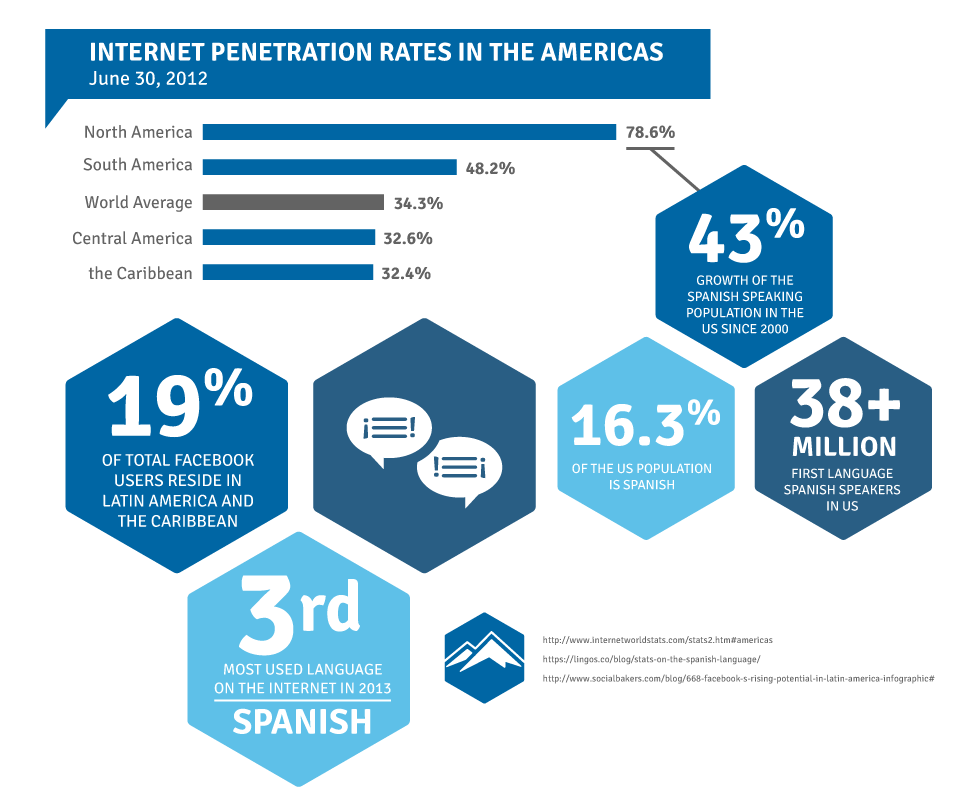 Social Strategy Creation
More than tweets, shares, likes or fans, social media is about building a community. That doesn't happen by accident; it's the result of careful planning, research and analysis.
Through our in-depth research, you'll have answers to the most important questions in social media.
Get critical insights where your audience spends time online, the platforms they use, when they're most active and how they share content.
Know the influencers and media outlets your Spanish audience looks to for insight, inspiration and advice.
Develop a clear picture of how your brand is perceived, where discussions are happening and how you can respond.
As part of our research we analyze existing English campaigns, borrowing from your successes as we localize those efforts for a Latin American market.
The end result is a hyper-targeted campaign and a roadmap for implementation.
Ongoing Campaign Management
When desired, Altura Interactive will actively manage your Spanish social media channels and implement a social strategy on your behalf.
Consider us the Spanish extension of your in-house team: savvy communicators as driven to deliver on your goals as you are. Frequent and detailed reporting means you'll never wonder what we're up to, and our strategy-first approach keeps your campaigns centered around the metrics that matter.
But behind those metrics are people – an audience who wants to be engaged like individuals instead of a mass market. Our ability to communicate naturally with other Latin Americans means your social campaigns will feel friendly, warm and genuine instead of just an English campaign with a Spanish translation.
It's the difference between speaking like a local and interpreting through a translator. The relationships we build will be as real and long-term as the results you earn.
Monitoring & Reputation Management
Listen, learn and respond. Altura Interactive eliminates the language barrier, so you'll know exactly what your Spanish-speaking audience is saying – and how to respond.
Together, we'll listen to the conversations being had about your brand across the web, analyze the sentiments behind them, intercept and respond to customer complaints and give you a voice in discussions you previously had no say in.
Whether it's providing customer support, sending a timely "Gracias" or gathering feedback that can make your business better, you'll be tapped into conversations that you once missed out on.